Brief presentations and opportunities to interact with finalists.
Meet the Finalists (in alphabetical order)
3:15 pm EDT
2020 Hearst Health Prize Finalists Poster Session and Live Q&A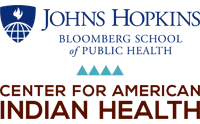 Johns Hopkins Bloomberg School of Public Health, Center for American Indian – Family Spirit
Watch Video
View and Download Poster: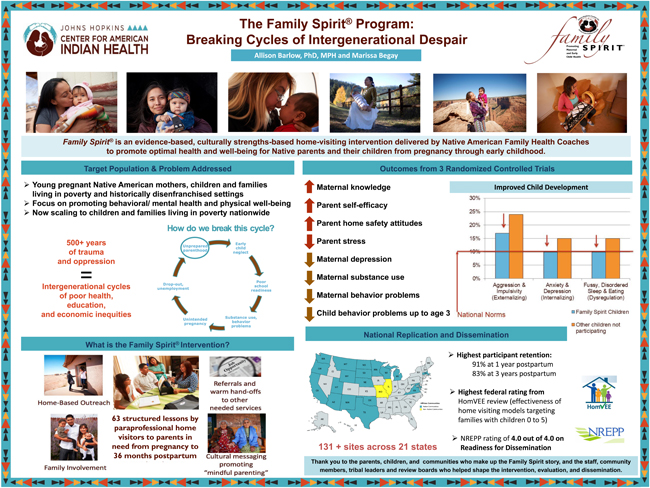 Nationwide Children's Hospital – Healthy Neighborhoods, Healthy Families
Watch Video
View and Download Poster: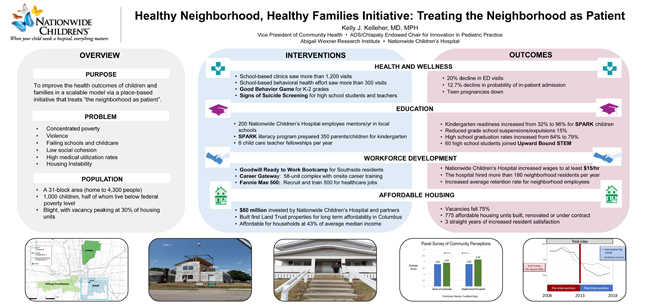 Scripps Whittier Diabetes Institute – Project Dulce
Watch Video
View and Download Poster:
TUESDAY, OCTOBER 6, 2020, 2:30 – 2:50 PM EDT
FIVE YEARS OF IMPACT: EXPLORING PROGRESS IN POPULATION HEALTH WITH PAST HEARST HEALTH PRIZE WINNERS
In anticipation of the announcement of the 2020 Hearst Health Prize Winner, please join us for a panel discussion with past Hearst Health Prize winners as they reflect on the impact of their programs.
2:30 pm EDT
Five Years of Impact: Exploring Progress in Population Health with Past Hearst Health Prize Winners

Brenda Reiss-Brennan, PhD, APRN
Principal Investigator and Advisor, Mental Health Integration Implementation Science, Intermountain Healthcare, Salt Lake City, UT
Dr. Reiss-Brennan is Chief Clinical Science Officer at Alluceo, a digital team-based care platform integrating patients' physical, mental and social health into routine primary care. She is a medical anthropologist and psychiatric nurse practitioner working in primary care for over 40 years. Previously as principal investigator at Intermountain Healthcare (IH), she lead the adoption, diffusion and evaluation of integrated team-based care for mental health and medical care. Dr. Reiss-Brennan holds a longstanding faculty appointment at the University of Utah, College of Nursing. In addition, she serves as a local, national and international expert on the cultural innovation and implementation of MHI research, including cost, quality and patient and staff experience, for the advancement of whole person and family centered population health.

Joe Finn, MA, JD
President and Executive Director, Massachusetts Housing & Shelter Alliance, Boston, MA
Joe Finn has worked on homelessness issues for more than 28 years, serving as executive director of Shelter, Inc. (now Heading Home) in Cambridge and Quincy Interfaith Sheltering Coalition (now Father Bill's & MainSpring) prior to joining MHSA in 2003. He concentrates on the expansion of permanent supportive housing opportunities for individuals, including people experiencing chronic homelessness – the most expensive and disabled segment of the homeless population. Joe also served as a City Councilor for the City of Quincy.

Suzi K. Johnson, MPH, RN
Vice President, Sharp Hospice and Palliative Care, La Mesa, CA
Suzi Johnson serves as the Vice President of Sharp Hospice and Palliative Care, a program of Sharp HealthCare located in San Diego, CA. Suzi's responsibilities include strategic planning, business development, community outreach and philanthropy. Her extensive leadership experience and passion for excellence has positioned Sharp HealthCare for greater integration of palliative and end of life care across the care continuum. Suzi has been a visionary leader in the development of community based hospice homes, an early innovator of a home based palliative care consultation program focusing on population based management of patients with advanced illness, the development of an advance care planning program for the health system, medical groups and community, and the development of hospital based inpatient palliative care. Suzi is a nationally recognized leader serving on several boards including the National Hospice and Palliative Care Organization and the California Hospice and Palliative Care Association Board of Directors.

David B. Nash, MD, MBA, FACP
Founding Dean Emeritus, Jefferson College of Population Health, Thomas Jefferson University, Philadelphia, PA
David B. Nash is the Founding Dean Emeritus and the Dr. Raymond C. and Doris N. Grandon Professor of Health Policy at the Jefferson College of Population Health (JCPH). His 11-year tenure as Dean completes nearly 30 years on the University faculty. JCPH is dedicated to developing healthcare leaders for the future. The College offers Masters Programs in Public Health, Population Health, Healthcare Quality and Safety, Health Policy, Applied Health Economics and Population Health Intelligence. After voluntarily stepping down as Dean, Jefferson Health asked him to take on some additional responsibilities as a "Special Assistant" to the Chief Physician Executive, effective July 2019. A board-certified internist, Dr. Nash is internationally recognized for his work in public accountability for outcomes, physician leadership development, and quality-of-care improvement.

Tom Wroth, MD, MPH
President and Chief Executive Officer, Community Care of North Carolina, Raleigh, NC
Dr. Wroth is President of Community Care of North Carolina (CCNC) where he oversees day to day operations. CCNC supports the primary care delivery system by providing practice support and care management services using targeted analytics and innovative practice-based tools. Dr. Wroth is a practicing family physician and has cared for patients for over 20 years in NC. He is the former Chief Medical Officer at Piedmont Health, a system of 10 FQHCs and 2 PACE sites. He was previously on faculty in the Department of Family Medicine at the University of North Carolina at Chapel Hill.

Gregory Dorn, MD, MPH
President, Hearst Health, San Francisco, CA (Moderator)
Greg Dorn is a senior vice president of Hearst and the president and group head of Hearst Health, overseeing Hearst's healthcare businesses in the U.S. and globally, including FDB (First Databank), Zynx Health, MCG, Homecare Homebase, MedHOK, Hearst Health Ventures and the Hearst Health Innovation Lab. He also serves as a director of M2Gen. For more than two decades, Dorn has been focused on raising the standard of excellence for patient care across the healthcare spectrum, through clinically rigorous guidance delivered by efficient, scalable technology. His expertise is in developing and commercializing inventive and disruptive solutions that improve care quality and efficiency. Dorn has held a variety of leadership positions across Hearst, including chief operating officer of Zynx Health and president of FDB. In 2013 he was appointed a vice president of Hearst to lead its growing portfolio of healthcare companies and became president of Hearst Health in 2014.
2020 HEARST HEALTH PRIZE AWARD CEREMONY LIVE!
2:50 pm EDT
2020 Hearst Health Prize Award Ceremony Live!
Be there in real time! Be the first to know when the announcement is made for the winner of the $100,000 Hearst Health Prize!